WOW That's Fresh! - Four pack (4) - Shrimp & Crab Bloody Mary Mix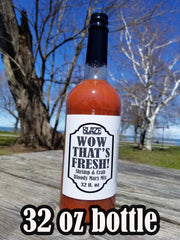 This 4 Pack saves you $$$ on shipping too!

'WOW That's Fresh!' (compare to the delicious 'Wake Up Crabby!)

We believe it is simply the BEST Bloody Mary Mix on the planet! 
'WOW That's Fresh!
– Made with Real Shrimp and Crab Bloody Mary Mix- You are about to embark on a real tastebud cruise. This is the finest Bloody Mary mix known to mankind! It is all natural, lower in sodium than most mixes, and contains real shrimp and crab. Add chopped celery and onion, and every sip turns into Mardi Gras! So hide this mix from the "Fun Police". It is handcrafted in small batches to insure quality, consistency, wholesomeness, purity, and a rock solid alibi.
"Laissez Le Bon Temps Rouler"
No Fat, No Trans Fat, No Cholesterol
Ingredients: tomato juice, lemon and lime juices, molasses, horseradish, pepper, crab meat, shrimp, shrimp powder, sugar, butter, salt, onion, celery and spices. 

**Compare to $19.95/bottle on other websites!***
Why not chip in with your neighbors or friends?
Price: $50.00