BACK IN STOCK - Blaze Gourmet "The Jerk" ... Jamaican Jerk Hot Sauce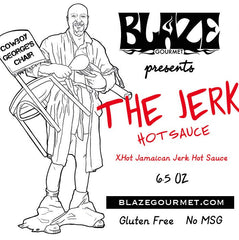 BACK IN STOCK!
Hold on tight, as this brand new Jamaican Jerk Hot Sauce is going to take your tastebuds on the island vacation you've been waiting for!
This dance includes Scotch Bonnet Peppers, Garlic, Nutmeg, a pinch of Cinnamon (and a few other Jamaican spices) making it perfect for all Beef dishes, Seafood (Shrimp especially), Rice, Potatoes, etc., etc., etc.
You Deserve This One.
Jah Blaze!
Price: $11.95